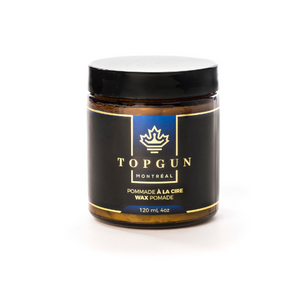 Topgun Wax Pomade
Sale price Price $22.00 Regular price
Description
Win the hair game with an innovative Montreal-made hairstyling wax that will become your go-to product for your sleek combover or pompadour. The luxury water-based pomade boasts an extraordinary high hold and a brilliant medium shine. 
The advanced formula took 3 years to craft and was developed to perfection with world-class chemists and barbers. Engineered for thick, straight and wavy hair types, you'll rapidly notice that it confidently lasts all day, doesn't flake and washing it off is surprisingly quick.
We also added a high concentration of 5 powerful conditioning ingredients that will improve your hair.
Bark extracts from Canada's Red Maple, Black Spruce, Jack Pine, and Yellow Birch will help your hair become stronger, deeply hydrated and resistant to sun damage. You'll notice less hair shedding, a silky feel, and a healthy natural shine.
Natural creatine's uplifting effect will improve your hair's volume over time, so styling your hair will become easy and effortless.
Characteristics
Topgun Wax Pomade is of an opaque light beige color. It features a light and clean citric aroma that won't interfere with your cologne. The texture is thick and semi-hardened.
Application
Evenly distribute a small amount on the palms of your hands. Work into dry hair for a stronger hold or into damp hair for a lower hold and higher shine. Restyle by adding water and using a comb or fingers.
Packaging
Unlike most hairstyling products packaged in plastic containers, Topgun Wax Pomade's elegant amber glass jar provides safe materials interaction that will assure no harmful chemicals leach into your product.
What customers are saying
"My new favorite wax! Bought one for my brother too for his birthday after he told me my hair looked a1 ;)"
"I've been with layrite for a few years but decide to give topgun a shot after my barber recommended it and oh man it's great!! Love the hold!! And the smell is awesome!"