Discover Topgun Wax Pomade
Win the hair game with an innovative Montreal-made hairstyling wax that will become your go-to product for your sleek combover or pompadour. The luxury water-based pomade boasts an extraordinary high hold and a brilliant medium shine. 
SHOP NOW
Reduction in shedding
Topgun Pomade's powerful Red Maple bark extract will help improve the strength and firmness of your hair over time, giving you a better resistance to combing and a reduction in shedding. 
Hydrated hair
Acting as a leave-on conditioner, Topgun Pomade's Yellow Birch bark extract will help provide you with short-term hair hydration, making your hair feel silky smooth after washing the product off. 
Healthy shine
The rich Jack Pine Bark Extract will help get your hair with the long-term hydration it requires for better moisture retention. As a result, your healthy-looking natural shine will be restored.
UV ray protection
Dry hair? Thinning hair? Signs of sun damage affect hair of many menu. Topgun Pomade's Black Spruce bark extract will get you UV ray protection, which means you can step out and enjoy the sun without drying out your hair.
"One of the best products"
"After trying top gun for over a year, I can confidently say that it is one of the best products that I have tried on the market. It smells good, easy to wash and holds very well. What more can you ask?"
"J'adore le produit."
"J'adore le produit. C'est la meilleure consistance, ça sent bon. D'habitude je dois mélanger comme 3 produits différents pour donner le même effet que votre produit me donne! Thanks les boys!"
"The one i love!"
"Its my daily men-grooming hair product! I would recommend it to who ever loves a mild shine and a prefect hold! I don't know how they did it, i was looking for a hair product like this for so long! been changing for different years and finally got the one i love! Thank you Top Gun! And it's all made in Montreal, QUEBEC!"
Are you ready to win the hair game?
Win the hair game with the advanced formula that took 3 years to craft and was developed to perfection with world-class chemists and barbers. Engineered for thick, straight and wavy hair types, you'll rapidly notice that it confidently lasts all day, doesn't flake and washing it off is surprisingly quick.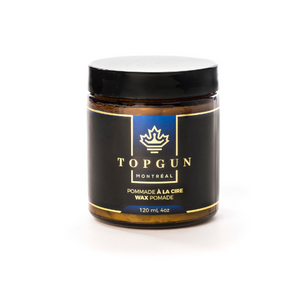 Topgun Wax Pomade
Sale price Price $29.00 Regular price